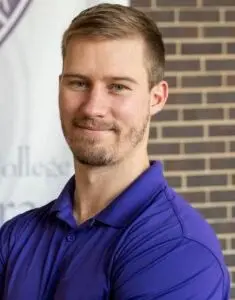 Dr. Cornelius Botha

Anchorage Chiropractor

Chiropractic Team
Dr. Cornelius Botha is a proud Colleague of the Ireland Clinic of Chiropractic, LLC, one of the most prestigious and respected Chiropractic facilities in Alaska for over 50 years.
In 2021, "Dr. Cornelius" graduated cum laude from the Palmer College of Chiropractic, the founding College of Chiropractic, located in Davenport, Iowa. While receiving his extensive professional education he was named to the Dean's List, served as Vice President of the Palmer College Student Council, and Head Coach to the Palmer Rugby men's and women's teams, earning him the Palmer Merit Certificate. He completed his residency in Rehabilitation and Sports Injury, while also pursuing a certification in The McKenzie Method of Diagnosis and Therapy (MDT), Dynamic Neuromuscular Stabilization (DNS), and Advanced Soft Tissue Therapy.
Dr. Cornelius is certified by the National Board of Chiropractic Examiners and is also certified in Physiotherapy. He holds an active Alaska Chiropractic License and is a member of both the American Chiropractic Association and the Alaska Chiropractic Society.
Dr. Cornelius was born and raised in South Africa until the age of 8, when his family relocated to Brisbane, Australia, where he has called home ever since. In high school he played competitive rugby, helping his team win the State Championship multiple times, and graduated with a selection on Pre-Med. He graduated with his first Bachelor's degree in Exercise and Nutritional Sciences from the University of Queensland, Australia. While in college he decided to switch from rugby to American football. He would go on to be selected for the Australian National Gridiron Team, helping to win the 2014 Championship, and earning him a football scholarship to the University of Sioux Falls, South Dakota. There he graduated as an Academic All-American with a Bachelor's degree in Exercise Science. Dr. Cornelius then returned to his home in Australia, where he worked as an Exercise Scientist and Rehabilitation Specialist, while also playing one professional season of football overseas for the Novi Sad GAT Dukes of Serbia, in the Central European American Football League. He was offered the opportunity to study at the oldest founding and most prestigious Chiropractic College in the world, Palmer College. Upon the recommendation of esteemed health professionals, he decided to pursue the opportunity to gain an understanding of Chiropractic care, something he did not know the depth and breadth of.
Rugby has been an important part of Dr. Cornelius' life journey, having brought him to the Palmer College, and facilitating several lifelong friendships and connections, such as bringing Dr. Cornelius and Dr. Trevor Ireland together, which was the start of a great colleagueship. While at Palmer, Dr. Cornelius both played and was Head Coach for the men's rugby team, helping to secure a spot in the Midwest Championship, and was also chosen as a Men's Selects Side player for the Midwest. He also assisted in coaching the women's rugby team to a Midwest Championship and clinching a spot in the National Playoff. He plans to continue playing rugby and is coaching the younger generation with the Alaska Youth Rugby.
Dr. Cornelius is joined in Alaska by his wife, Hannah, who has earned a Master's Degree from Trinity College of Nursing, and their two Persian cats. They are both avid nature-lovers and have an appreciation for our amazing scenery and environment. He aims to "live life to the fullest", as well as help his patients reach that same goal by providing functional, holistic, non-invasive, and conservative professional care. He is dedicated to seeing patients reclaim their life, health, and wellness by obtaining pain-free functionality and achieving their optimal potential.
Skeptics Welcome
What about people who aren't familiar with chiropractic or aren't sure about how effective it can be in helping to relieve pain and enhance wellness?
"I like to help patients feel better and get back on track with wellness. I usually find people are looking for a little guidance to help them live better, work better, and have more energy to be with their children."
"Sometimes it just takes time to educate patients about what chiropractic is and how it can make them feel. People are surprised how it can become part of their lives."
"Whether you are unsure about chiropractic or have seen a chiropractor in the past, I'd love to talk with you about how I can help you feel your best." Call the Ireland Clinic today at (907) 561-1222 and schedule your first appointment.